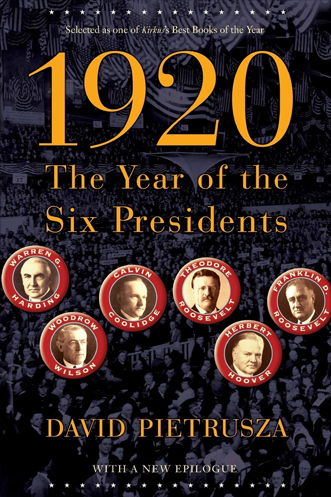 1920: The Year of the Six Presidents
Rated as among the Five Best Books on Political Campaigns by The Wall Street Journal: "broad, fluid brush strokes . . . a brisk narrative"
Named by Richard Norton Smith on C-SPAN as one of his favorite presidential campaign books.


The presidential election of 1920 remains one of the most dramatic ever. For the only time in the nation's history, six once-and-future presidents hoped to end up in the White House: Woodrow Wilson, Warren G. Harding, Calvin Coolidge, Franklin Delano Roosevelt, Herbert Hoover, and Theodore Roosevelt.  
1920 marked the first election with women voting nationwide, the emergence of the Klan, and battles over the League of Nations and Prohibition. 1920's census revealed that America had become an urban nation—limbering up for the most spectacular decade of its history, the Roaring '20s. A riveting work presenting a dazzling panorama of presidential personalities, ambitions, plots, and counterplots—a picture of modern America at the crossroads.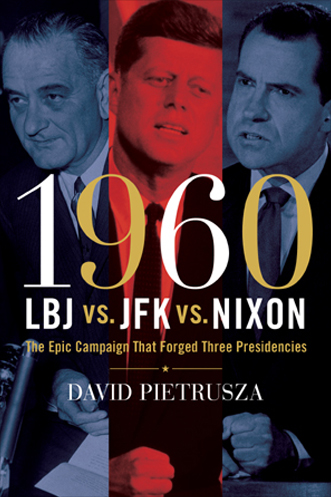 1960: LBJ vs. JFK vs. Nixon: The Epic Campaign that Forged Three Presidencies

The election that ultimately gave America "Camelot" and its tragic aftermath. 1960 is a stunning recreation of the bare-knuckle politics of the primaries, the party conventions' backroom dealings, the unprecedented television debates, along with hot-button issues of race, religion, and foreign policy. And, at the center of it all, three future presidents—Lyndon Johnson, John F. Kennedy, and Richard Nixon.
In this essential work of history, David Pietrusza chronicles 1960's struggle for power by bringing to life its towering events and personalities, unlocking its secrets, and turning expert scholarship into rich, human storytelling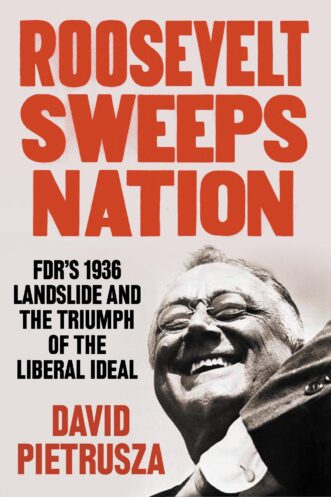 Roosevelt Sweeps Nation: FDR's 1936 Landslide and the Triumph of the Liberal Ideal
"David Pietrusza's Roosevelt Sweeps Nation combines penetrating research with good illustrative anecdotes to bring the 1936 presidential election between FDR and Alf Landon into sharp focus. A marvelous and important history. Highly recommended!"
—Douglas Brinkley, professor of history at Rice University, Katherine Tsanoff Brown Chair in Humanities, and author of Rightful Heritage: Franklin D. Roosevelt and the Land of America
A dazzling panorama of presidential and political personalities, ambitions, plots, and counterplots; racism, anti-Semitism, anti-socialism, and anti-communism, and the landslide referendum on FDR's New Deal policies in 1936's presidential election.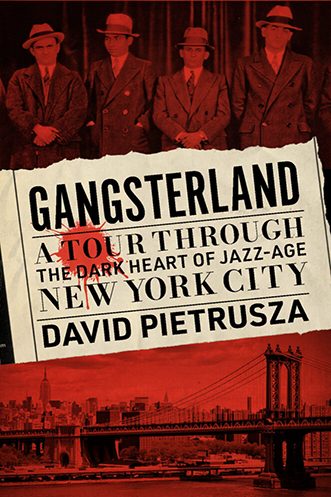 Gangsterland: A Tour Through the Dark Heart of Jazz-Age New York City
"wide-ranging . . . spry . . . entertaining"
— Kirkus Reviews
"encyclopedic. . . N.Y.C. history buffs should take note."
— Publishers Weekly
A site by site, crime by crime, outlaw by outlaw walking tour through the seedy underbelly of Roaring Twenties Manhattan—where gamblers and gangsters, crooks and cops, showgirls and speakeasies ruled the day and, always, the night.
Welcome to the kaleidoscopic netherworld of Jazz Age Manhattan. Here in the big city resides a crowded world of power and vice, of bright lights and big money, of murder and more murder circling itself like a venomous snake.  Names intersect. Places intersect. Rackets intersect. Gambling and bootlegging; Tammany Hall and City Hall; Wall Street and sports and the theater are all joined at the hip—or, rather, the hip flask. 
At the heart of all this wickedness nests a "Prince of Darkness," Arnold Rothstein: the New York City gangland kingpin of kingpins, the shady moneyman who bankrolled baseball's infamous 1919 World Series Fix. 
Hoodlums, hussies, whodunits, and hundreds of gangster-related sites—historian David Pietrusza's GANGSTERLAND is garishly backlit by Times Square's neon glare and boisterously choreographed by high-kicking chorus lines of gams and glitter. Shake hands with Arnold Rothstein, but count your fingers afterwards. 
At day's end, the wage of sin really is death.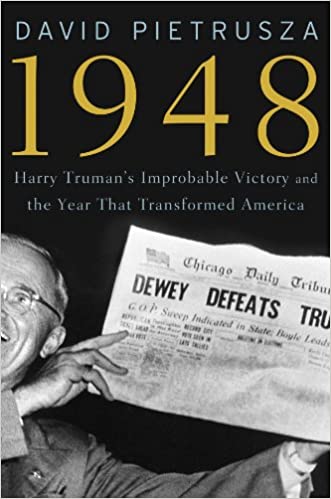 1948: Harry Truman's Improbable Victory and the Year That Transformed America
Named by the Wall Street Journal as among "Five Best" Books on "Campaigns and Candidates"
The wild, combative inside story of the most stunning upset in the history of presidential elections: Harry Truman's 1948 victory over Tom Dewey.
1948 unpacks the most ingloriously iconic headline in the history of presidential elections—DEWEY DEFEATS TRUMAN—to reveal the 1948 campaign's backstage events and recount the down-to-the-wire brawl fought against the background of an erupting Cold War, the Berlin Airlift, the birth of Israel, and a post-war America facing exploding storms over civil rights and domestic communism.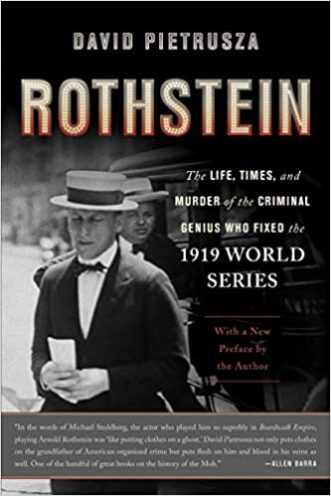 Rothstein: The Life, Times, and Murder of the Criminal Genius Who Fixed the 1919 World Series
EDGAR AWARD FINALIST    *    AMAZON #1 BESTSELLER – BASEBALL HISTORY
AUDIOFILE EARPHONES AWARD FOR THE AUDIOBOOK EDITION

History remembers Arnold Rothstein as the man who fixed the 1919 World Series, an underworld genius. The real-life model for The Great Gatsby's Meyer Wolfsheim and Nathan Detroit from Guys and Dolls, Rothstein was much more— and less—than a fixer of baseball games. He was everything that made 1920s Manhattan roar. Featuring Jazz Age Broadway with its thugs, speakeasies, showgirls, political movers and shakers, and stars of the Golden Age of Sports, this is a biography of the man who dominated an age. 
Arnold Rothstein was a loan shark, pool shark, bookmaker, thief, fence of stolen property, political fixer, Wall Street swindler, labor racketeer, rumrunner, and mastermind of the modern drug trade.  A vivid account of Rothstein's life is also the story of con artists, crooked cops, politicians, gang lords, newsmen, speakeasy owners, gamblers and the like. Finally unraveling the mystery of Rothstein's November 1928 murder in a Times Square hotel room, David Pietrusza has cemented The Big Bankroll's place among the most influential and fascinating legendary American criminals.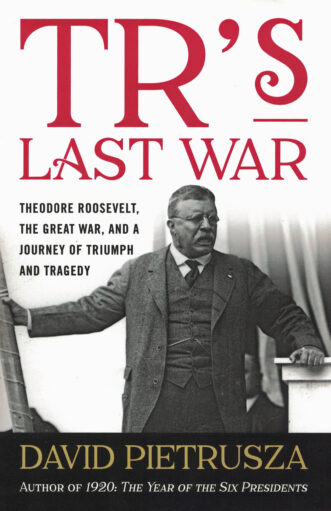 TR's Last War: Theodore Roosevelt, the Great War, and a Journey of Triumph and Tragedy
INDEPENDENT PUBLISHER BOOK AWARD SILVER MEDAL FOR AMERICAN HISTORY FINALIST, THE THEODORE ROOSEVELT ASSOCIATION BOOK PRIZE
A riveting account of Theodore Roosevelt's impassioned crusade for military preparedness as America fitfully stumbles into World War I, spectacularly punctuated by his unique tongue-lashings of the vacillating Woodrow Wilson, his rousing advocacy of a masculine, pro-Allied "Americanism," a death-defying compulsion for personal front-line combat, an awkward rapprochement with GOP power brokers—and, yes, perhaps, even another presidential campaign.
Roosevelt is a towering Greek god of war. But Greek gods begat Greek tragedies. His own entreaties to don the uniform are rebuffed, and he remains stateside. But his four sons fight "over there" with heartbreaking consequences: two are wounded; his youngest and most loved child dies in aerial combat. Yet, though grieving and weary, TR may yet surmount everything with one monumentally odds-defying last triumph. Poised at the very brink of a final return to the White House, death stills his indomitable spirit.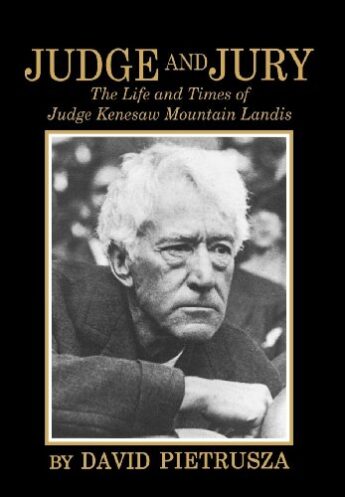 Judge and Jury: The Life and Times of Judge Kenesaw Mountain Landis
CASEY AWARD WINNER – BEST BASEBALL BOOK OF THE YEAR
FINALIST, THE SEYMOUR MEDAL
NOMINEE, NASSH BOOK AWARD 

Judge Kenesaw Mountain Landis is most famous for his role as the first Commissioner ever to rule organized baseball. But before he came into his legendary position as baseball's final say, the colorful Landis already had built a reputation from his Chicago courtroom as the most popular and most controversial federal judge in World War I-era America. Judge and Jury, winner of the CASEY Award as best baseball book of the year, remains the only complete biography of Landis, from the origins of his unusual name through his trust-busting and wartime career as a federal judge, to his clean-up of the The National Pastime following the infamous Black Sox scandal, and the controversy surrounding his name concerning major league integration.
Too Long Ago: A Childhood Memory. A Vanished World.
Amazon New Releases Best Seller in: "Ethnic & National Biographies" & "Memoirs"
A witty and wise tale of growing up in the 1950s and 60s, Too Long Ago is no Leave It to Beaver or Father Knows Best episode. A unique glimpse into an unjustly ignored and forgotten immigrant experience—Eastern European and devoutly pre-Vatican II Catholic. A tale of a tight-knit Polish community, transplanted from tiny, impoverished Hapsburg-ruled villages to a hardscrabble, hardworking, hard-drinking Upstate New York mill town. How the first rust corroded the Rust Belt, sidetracking dreams but not hope.
A lively, often laugh-at-loud, saga of secrets and hard times, of insanity, of manslaughter and murder, of war and postwar, Depression and Recession, racetracks and religions, books and bar rooms, unforgettable personalities and vastly unpronounceable names, of characters and character, of homelessness, of immigration—first to America and then from Rust Belt to Sun Belt—of vices and virtues, and how a sickly, bookwormish boy who loved history and the presidents finally discovered a national pastime and made it his own.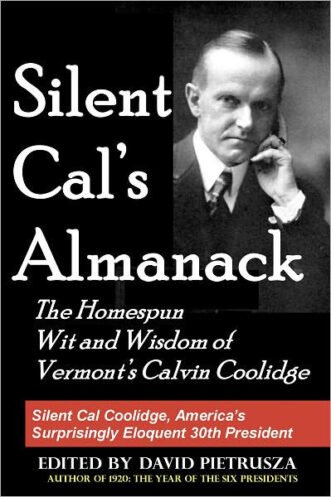 Silent Cal's Almanack: The Homespun Wit and Wisdom of Vermont's Calvin Coolidge
The ultimate distillation of Calvin Coolidge's political insight. A selection of Silent Cal's most significant public speeches. A thought-provoking original biographical essay. A fascinating and unique 50-page portfolio of Coolidge photos, and editorial cartoons, and campaign memorabilia. And more!
"He wrote simply, innocently, artlessly," H. L. Mencken once noted regarding Coolidge's prose, "He forgot all the literary affectations and set down his ideas exactly as they came into his head. The result was a bald, but strangely appealing piece of writing–a composition of almost Lincolnian austerity and beauty. The true Vermonter was in every line of it."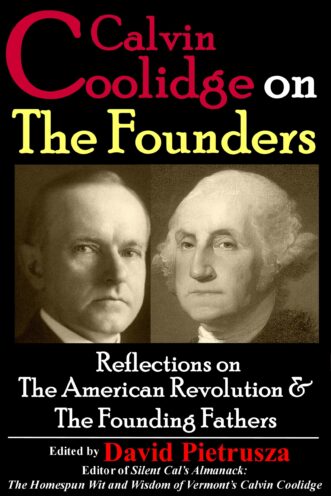 Calvin Coolidge on The Founders: Reflections on The American Revolution & The Founding Fathers
In these pages Silent Cal Coolidge focuses his famed terse eloquence on the nation's founders, not merely on George Washington's indispensable figure but also on the Declaration of Independence and the Constitution, Alexander Hamilton, Washington's fellow Virginia patriots, the Battles of Bunker Hill, Princeton, and Trenton, Ethan Allen's Green Mountain Boys, Boston's Old North Church, Methodist Episcopal Bishop Francis Asbury, and the pivotal role Jewish Americans played in winning of our freedoms. 
No modern president has spoken so much-or so well-of America's providential genesis. Coolidge turns mere history into a history lesson.
Calvin Coolidge: A Documentary Biography
Calvin Coolidge: A Documentary Biography reveals the "album version" of President Calvin Coolidge, featuring extended excerpts and, indeed, often the entire texts of major Coolidge addresses-as well as presenting a host of other illuminating documents, authored both by or about America's vastly underrated thirtieth president. Calvin Coolidge: A Documentary Biography shines a searchlight on Silent Cal Coolidge's world and worldview as no previous book ever has.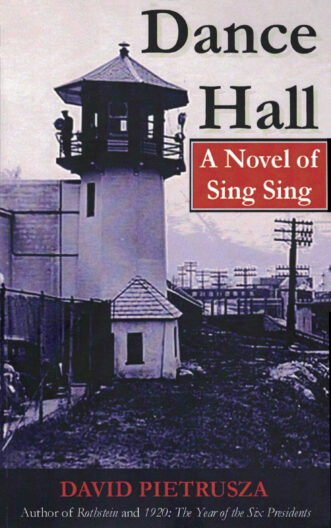 Dance Hall: A Novel of Sing Sing
INSPIRED BY TRUE STORIES OF DEPRESSION-ERA SING SING
A Brooklyn stickup artist, his taxi-dancing wife, a murderous newspaperman, a risk-taking warden, and a wife with a dark past converge in 1930s Sing Sing heading toward death, redemption—and Ebbets Field.

Dance Hall unveils a grand and riveting tale of a violent and desperate past, unforgettably narrated in a gripping, often wry, fashion—recorded in tears and punctuated in—rarely innocent—blood.

An unforgettable trip to a seedy, volatile 1930s underworld where love and honor and redemption jostle for mere survival with greed, lust, and betrayal.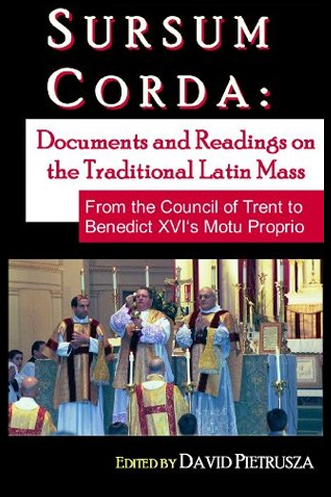 Sursum Corda: Documents and Readings on the Traditional Latin Mass
A new generation of Catholics is discovering the beauty, reverence, appropriateness, and efficacy of the Tridentine Mass. The Traditional Latin Mass, as the saying goes, is "the Mass the martyrs died for." It is also the Mass the faithful lived for and which gave life to them and to the Church itself. This small volume is designed to humbly guide readers in an appreciation of the Traditional Latin Mass' beauties, coherence, logic, aesthetics, glories, and graces. Featuring the works of: The Council of Trent, Pius V, Pius X, Pius XI, Pius XII, John XXIII, Paul VI, John Paul II, Benedict XVI, St. Charles Borromeo, Fr. Adrian Fortescue, Bl. John Henry Cardinal Newman, Alfons Cardinal Stickle,r Dom Fernand Cabrol, Michael Davies, Fr. Uwe Michael Lang, Bp. Athanasius Schneider, Fr. John T. Zuhlsdorf, Micheal S. Rose . . . and more.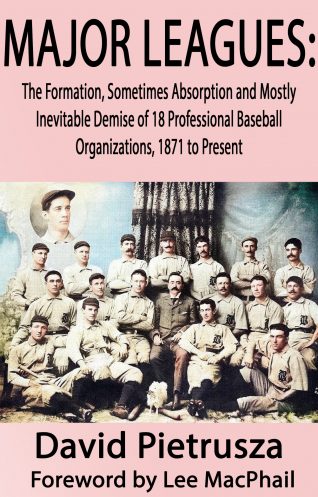 Major Leagues: The Formation, Sometimes Absorption and Mostly Inevitable Demise of 18 Professional Baseball Organizations, 1871 to Present
New major leagues have sprung up throughout the history of baseball, both long-term successes (the American and National leagues) and the transitory, of which the Federal League (1914-15) and the Mexican League (1946) were just two. Some leagues were born of noble motives (the Union Association, 1884, to abolish the reserve clause); others, farcical (the Global League, 1969). And many were stillborn, never playing that first inning (such as the Continental League, 1959-60). Here is their history and an analysis of the conditions that determined success or failure.
"This is a first class work in the comprehensive baseball history category and belongs on the shelf along with those impressive volumes of Harold Seymour and David Voigt."
— Society for American Baseball Research (SABR) Bibliography Committee Newsletter
"Well-researched . . . worthy" — Library Journal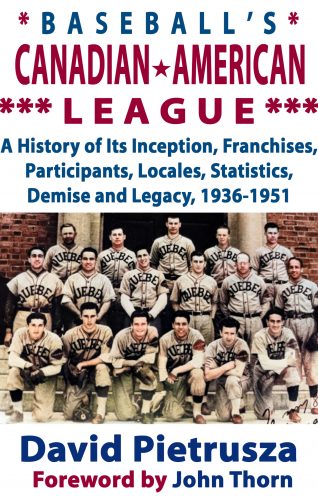 Baseball's Canadian-American League: A History of its Inception, Franchises, Participants, Locales, Statistics, Demise and Legacy, 1936-1951
A Class C minor league during a turbulent 15 years: its stirring history reveals what minor league baseball–indeed, all of baseball–was experiencing. Begun in the Depression, this league saw the coming of night baseball, World War II, the prosperous postwar era, pioneering racial integration, a deadly competition with television, and a final demise. And here are the stories of stars in the making: Bob Lemon, Tommy Lasorda, Al Rosen, Lew Burdette, Frank Malzone, Vic Raschi, Gus Triandos, and "Spec" Shea. Future MLB pennant-winning managers Eddie Sawyer and Mayo Smith. One-armed outfielder Pete Gray. Future congressman (and JFK roommate and  pal) Torby MacDonald. Mass murderer Conklyn Meriweather. A ball park that miraculously rose from its own ashes. The tragic war death of prospect Billy Southworth Jr. Plus its unique parish priest league president. This book–through groundbreaking research and dozens of personal interviews–captures the essence of minor league ball in a bygone but beloved era.
"fascinating"
— Sports Collectors Digest